Flower Pentecostal Heritage Center

The Flower Pentecostal Heritage Center
---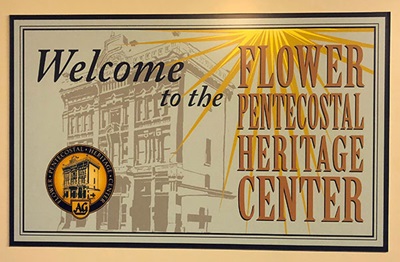 The Flower Pentecostal Heritage Center (FPHC) is the largest Pentecostal archives in the world. Located in the National Office of the Assemblies of God USA, the FPHC collects printed materials, oral histories, artifacts, photographs, and memorabilia documenting the Assemblies of God and the broader Pentecostal and charismatic movements, spanning the globe.
The FPHC has become an important hub for Pentecostal history and research, preserving and promoting Pentecostal testimonies and identity so that future generations can know the works of God. Countless church leaders, scholars, students, people in the pew, and other researchers have used its collections.

The FPHC preserves and shares our Pentecostal heritage utilizing six primary methods:
FPHC Hours
Offices, Research Room, and Museum
Monday-Friday: 8:00 a.m. - 4:30 p.m.
(Open on Tuesdays at 9:30 a.m.)
FPHC History
The Flower Pentecostal Heritage Center is named in honor of Assemblies of God pioneers J. Roswell Flower and Alice Reynolds Flower. A few milestones in the FPHC's history include:
1977 Founded as the Assemblies of God Archives
1981 Assemblies of God Heritage magazine began publication
1997 Renamed Flower Pentecostal Heritage Center
1999 Museum opened
2000 Online research center went live
Click here to read more about the history of the FPHC.
FPHC Vault and Research Room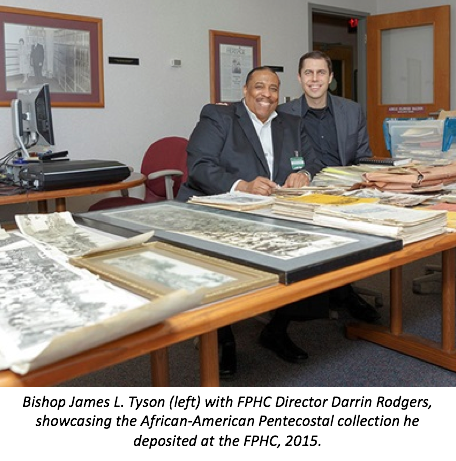 The FPHC houses most of its historical treasures in two locations: a vault located in the AG national office in Springfield, Missouri, and in a secure underground facility. Materials are preserved in a climate controlled environment in acid-free folders, sleeves, and boxes, according to the best practices identified by the Society of American Archivists.
Researchers may search the inventory of the FPHC's collections in the Archives Catalog on the FPHC website. Materials are retrieved upon request and made accessible to researchers in the FPHC research room in the AG national office, which is located at 1445 North Boonville Avenue, Springfield, Missouri.
FPHC Website
We encourage you to explore the FPHC website (iFPHC.org), which features free access to digitized photographs, audio/visual footage, and over 250,000 pages of indexed and text-searchable periodicals.
The FPHC Archives Catalog consists of over 130,000 catalog records of materials in over 145 languages, including the following:
Over 32,000 books

Over 25,000 digitized photographs

Over 3,900 periodical titles

Over 6,600 audio/visual titles
Catalog records have not been created for some materials in the FPHC's collections, such as the film archive of the PTL Club (20,000 reels). If you have questions, contact us.
If you are unable to visit us in person, you may order photocopies of materials for a modest fee. Ordering instructions are found on individual records in the Archives Catalog.
FPHC Museum
Every year, thousands of visitors to the Assemblies of God national office spend time in the FPHC museum.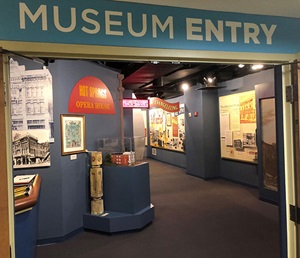 First-time visitors are often surprised by C. M. Ward's voice, activated by a motion sensor, as it booms out of his life-cast figure. He gives an altar call at the Revivaltime radio exhibit, as the choir sings a stirring rendition of Ira Stanphill's "Room at the Cross." Exhibits showcasing the Azusa Street revival, World Missions, U.S. Missions, women in ministry, and other themes can occupy visitors for an hour or more. The final exhibit is a recreated storefront church with wooden benches, a pot-bellied stove, Sunday School attendance board, an upright piano, and a pump organ.
Experiencing the 3,000-square-foot FPHC museum rekindles precious memories for those who lived the history, and it provides younger generations with an invaluable introduction to the heritage and testimony of early Pentecostals.
We can accommodate small and large tour groups. For more information, click here.
FPHC Staff
Darrin Rodgers - Director
Glenn Gohr - Reference Archivist
Robert Sears - Archivist
Todd Trask - Digital Archivist
Timothy Corum - Administrative Coordinator/Assistant Archivist
Joyce Lee - Assistant Cataloger
Ruthie Oberg - Events Speaker
Alice Harris - Archives Specialist


Staff Information
Directions
The Flower Pentecostal Heritage Center is situated on the second floor of the national office building of the Assemblies of God, located two miles south of I-44 and four miles west of U.S. 65, at the corner of Boonville Avenue and Division Street. The address is 1445 N. Boonville Ave., Springfield, MO 65802.

Directions and Printable Map